Capt. Comer, artist was Mollie C. Shadwick, 1972
Mollie Shadwick, Capt. Readic Comer, Dr. Eldon Yung

Capt. Readic Comer, Buffalo Soldier, United States Army
Warrensburg, Missouri received Captain's Commission

from President Truman
1977, Readic Comer
Capt. Readic Comer
JOCOMO Historical Blog - Accidental History
During the Civil War, 220,000 African-American soldiers enlisted to fight for the Union. After fighting in the war, the all black 10th Cavalry would continue fighting the Apaches during the 1870's and 1880's and even chase Pancho Villa south of the border during the Wilson administration.
Comer, who joined the service at 18 years old (August 1913) against his mother's wishes, would serve our country in the 10th cavalry during both World Wars. Harry S. Truman awarded Comer the rank of Captain as he became the first African American Captain from Missouri.
Lt. Readic Comer
Lt. Readic Comer
Sunset Hill Cemetery, Warrensburg, Missouri
Capt. Readic Comer's Final Resting Place
Maybell Comer, Warrensburg, MO
Sunset Hill, Warrensburg, Missouri
Nov. 16, 1894
Macon
Bibb County
Georgia, USA

Dec. 26, 1988
Warrensburg
Johnson County
Missouri, USA




Born in Macon, Georgia six years prior to the turn of the 20th century, Readic Comer enlisted into the army during August of 1913 while he was 18 years old. Comer was immediately assigned to the troop M of the all-black 10th calvary and sent to in Vermont about a month later. Comer would be quickly be reassigned (and paid $15 a month) to the extremely honorable position of serving as the personal security guard for General John J. "Black Jack" Pershing while stationed at Fort Huachuca in Arizona.

While Woodrow Wilson was president and after the Mexican bandit Pancho Villa raided the American City of Columbus, New Mexico, Comer was sent south of the border with Pershing on a manhunt which lasted 11 months during 1916. Going as far south as Mexico City, the search and seizure was a dreaded conquest which ended up empty handed. While trekking through the hot, sweltering country, eating tomatoes in an attempt to replace fluids, the Government of Mexico limited the search for Villa to outside city limits giving Villa plenty of secure hiding places with the help of loyal townspeople.

In an attempt to describe the lack of food eaten by the soldiers while in Mexico, the flamboyant Comer would later remark on his adventure:

"We were starving to death most of the time. All we had to eat were tomatoes and hard tack, which is biscuits made from flower and water and some of them were as old as 1905."

"One time we caught a jackrabbit and started a fire with some flint rocks and that was the best meal I've ever eaten. I'll never eat jackrabbit again because it doesn't taste the same."

Keeping rattlesnakes away at night was a different matter. Soldiers would steady their saddles down on the rugged terrain and use them for pillows while they would place a rope around their body in an attempt to frighten away any daring serpents. Comer explains:

"The rope didn't always work and if you saw a blanket fly in the morning, you could be sure there was a rattlesnake under it."

Nicknamed "Buffalo Soldiers" by the Indians because of the darker skin and tremendous work ethic, African American soldiers like Comer accepted this title as a badge of honor since buffaloes were highly respected by the Indians. Many of these soldiers (also called Black White Men by the Indians) were either ex-slaves, army veterans, or freemen looking west who had joined the army believing that the frontier military life could provide a better life than living east of the Mississippi. In later years, Comer even referred to himself as "a fading Buffalo soldier, veteran, veteran" which placed emphasis on his military duty as a Buffalo soldier first and a war veteran second. Few people know that around 20 percent of the Calvary who had fought in the Indian Wars were black and many gave valiant efforts in the Cheyenne Indian War, Red River War, Ute War, Apache War, Sioux War, and numerous others. The 10th Cavalry that Comer served in was established upon the completion of the Civil War in 1866.

Readic Comer, proudly served our nation in both world wars including two tours of duty in the Phillipines under General Douglass MacArthur and Jonathon Wainright. After 30 years of service, he could have retired in 1943 but delayed his retirement since America was in the middle of World War II. Readic Comer received the rank of Captain from President Harry S. Truman while becoming the first African American in the state of Missouri to attain the rank of Captain.

Capt. Readic Comer, Warrensburg, MO

While retired, Comer was an active participant in Warrensburg events as he led Boy Scout troops and had hobbies that included electrician, plumber, builder, reader, and especially an enthusiastic storyteller. Readic Comer passed away in 1988 at 94 years young. His gravestone may be viewed at Sunset Hill Cemetery lying next to his wife Maybell Comer who both have crosses engraved into their stone. Readic was buried wearing his uniform while his wide brimmed military hat sat delicately on his chest. Today, people may take one last look into the focused eyes of this military leader at the Mary Miller Smiser Heritage Library. Here hangs an elaborate oil painting portrait dedicated to Comer's years of distinguished service and to the legend our local American Hero. He was the first African-American to reach the rank of captain in the state of Missouri.

Record added: Jul 28, 2011

Find A Grave Memorial# 74057902
Captain Readic Comer is my great grandfather. He died in 1988 and left behind his daughter (My grandmother) Angeline B. Hayes, her two daughters and one son (My father) George A. Briscoe, his daughter and son (Myself) Nicholas X. Briscoe, and my son Marquez X. Briscoe. Captain Readic Comer lived the majority of his life in the Kansas City area of Missouri. Warrensburg Missouri is where he called his home. He was a very significant war hero while enlisted in the United States Army and later awarded the rank of Captain by President Harry S. Truman. He was born in Macon Georgia in 1894 and had three brothers and three sisters. I am wondering if anyone knows any information of the whereabouts of anyone related to Captain Readic Comer besides those that I have listed. Please contact me by email: dagreat99@yahoo.com
Readic Comer was born on November 16, 1894 in Macon, Georgia.
His parents were Makey Comer and Laura Daniels.
Rev. Makey Comer was a long time pastor of the St. Luke Baptist Church, Macon, Georgia
He was married September 10, 1927 to Maybell Tysons.
She died on a Friday and funeral services were held on October 7th 1969. She was buried at Sunset Hill Cemetery in Warrensburg. Comer was a Buffalo Soldier and served in both World War I and World War II. He had the rank of Master Sgt. and later Captain after the armed forces were desegregated. He served in the armed forces for 30 yrs. He was the first African-American to reach the rank of Captain in the State of Missouri. He retired from the armed forces on Feb. 1, 1944. He served as a boy scout leader in Warrensburg for several years. He had a child named Angeline B. Hayes. Angeline was born June 10, 1935 and passed away August 18, 2003 and is buried in Sunset Hill. He died Dec 26 at the age of 94. He was buried at Sunset Hill Cemetery.
He had 3 brothers and 3 sisters.
How the Name Buffalo Soldiers Came to Be (one version)
The following story is one of many how the Buffalo Soldiers got their name.
In September 1867, Private John Randall of Troop G of the 10th Cavalry Regiment was assigned to escort two civilians on a hunting trip. The hunters suddenly became the hunted when a band of 70 Cheyenne warriors swept down on them. The two civilians quickly fell in the initial attack and Randall's horse was shot out from beneath him. Randall managed to scramble to safety behind a washout under the railroad tracks, where he fended off the attack with only his pistol until help from the nearby camp arrived. The Indians beat a hasty retreat, leaving behind 13 fallen warriors. Private Randall suffered a gunshot wound to his shoulder and 11 lance wounds, but recovered. The Cheyenne quickly spread word of this new type of soldier, "who had fought like a cornered buffalo; who like a buffalo had suffered wound after wound, yet had not died; and who like a buffalo had a thick and shaggy mane of hair.
Jefferson City Post-Tribune (Newspaper)
November 23, 1977, Jefferson City, Missouri
POST TRIBUNE Jefferson City, Mo
Old soldier recalls ordeals with Blackjack The troop known as Buffalo recalled
WARRENSBURG, Mo. AP The tales of Gen John Pershing chasing Pancho Villa throughout Mexico are almost forgotten by today's generation except for school children's books And people still around from that era were probably too far removed from the incident to remember it But Warrensburg has its own personal story teller of the happenings in Readic Comer 83 retired captain of the U S Army Comer enlisted in the Army when he was 18 years old in August 1913 He was a member of Troop M of the 10th Cavalry in Fort Huachuca, Arizona which was an all Black troop known as Buffalo Soldiers His job was that of security guard to Gen. "Black Jack" Pershing, at that time Pancho Villa a hero to the peasants and common people was raiding Mexico.
In March 1916 he (Pancho) made the mistake of crossing the border and raiding the town of Columbus NM and this started the search by Pershing We never did catch up with Pancho Villa because the Mexican government wouldn't allow us to ride through the towns so we had to ride five miles outside of them while he was being protected by the townspeople Comer recalled Comers troop riding with Gen Pershing rode as far south as Mexico City and was in Mexico for 11 months
We were starving to death most of the time he said All we had to eat were tomatoes and hard tack which is biscuits made from flour and water and some of them were as old as 1905 He said the tomatoes had to take the place of water because sometimes there wasn't any for more than 100 miles We also went for days without meat he said One time we caught a jackrabbit and started a fire with some flint rocks and that was the best meat I've ever eaten I'll never eat jackrabbit again because it doesn't taste the same Being in the desert there were a lot of rattlesnakes to contend with and Comer described how the men put their saddles down for pillows and put a rope around them to sleep This was supposedly the way to keep rattlesnakes out of one's bed The rope didn't always work and if you saw a blanket fly in the morning you could be sure there was a rattlesnake under it Comer said He related the story of one man who did have a cigarette and was shot through the neck as a result of another man's attempt to light it by firing his six shooter When the troops went as far as Tres Hermanos Ranch they turned around and headed back for the United States failing to catch their man Some years later Pancho Villa was shot by one of his own security guards Comer moved up the ranks to master sergeant at a time when the military was totally segregated and a black man wasn't allowed to become an officer He stayed with the Army throughout World War I in the ordnance department at Fort Huachuca When World War II began he served two tours of duty in the Philippines under Gen Douglas MacArthur and Jonathan Wainwright Comer was appointed a temporary captain during World War II and resigned his commission in order to re-enlist as a master sergeant and retire in 1944 After President Truman desegregated the military during his commission Comer was later appointed a captain Despite his age Comer has a vivid memory of his experiences I didn't do anything special to keep myself going for so long and I have done everything in my lifetime he concluded.
Pursuing Poncho Villa - 1916
In 1915, the political situation throughout Mexico and along its border with the United States had grown explosive. The U.S. Army patrolled the border from the mouth of the Rio Grande in Texas to San Diego, California, a distance of 1700 miles.
On March 9, 1916, Mexican revolutionary Pancho Villa attacked sleeping citizens and soldiers in the town of Columbus, New Mexico, ending a period of watchful waiting. President Woodrow Wilson ordered Brigadier General John J. Pershing, to lead a "Punitive Expedition" of U.S. troops into Mexico in pursuit of Villa and his band.
Among the troops crossing into Mexico were the 10th Cavalry Buffalo Soldiers commanded by Colonel William Brown. The senior Major in the Regiment was Major Charles Young.
The Mexican Punitive Expedition was the last time that horse-mounted troops would play a significant role in an American military operation. The army was already replacing their old reliable steeds and mules with trucks and automobiles.
The troops were often in the saddle for over seventeen hours a day, riding through rough, irregular terrain in pursuit of Villa. The 10th Cavalry took part in several tactical actions. Near Aguas Calientes, Major Young, now a Squadron Commander, led his troops in an attack on about 150 Villistas, who retreated with the Buffalo Soldiers in pursuit.
At El Mesteno, the opposing forces could not be dislodged by rifle fire. Colonel Brown ordered Major Young to mount up and charge the enemy flank. Young's men dropped back from the firing line, ran to their horses, and mounted up to form a line with pistols drawn. At Major Young's signal, they moved forward at a gallop, threatening to envelop the Villistas' right flank. The troopers didn't fire a shot, but they did start moving faster and yelling. The Villistas refused to meet the charge, ceased firing, and disappeared into the woods.
A month later at Hacienda Santa Cruz, Major Young led his squadron to the relief of 13th Cavalry troops, who were in danger of being wiped out. Young's reinforcement prevented a disastrous defeat for these American troops.
Another action involving the 10th Cavalry was not successful.
In June of 1916, C Troop and K Troop ran into a trap set by Mexican Federal soldiers near the town of Carrizal. Outnumbered, two officers and ten enlisted men were killed. Twenty-three troopers were taken prisoner.
Fighting back, the Buffalo Soldiers killed forty-five of the Federal soldiers including their commander. In due time the captives were returned to the American command.
1916 10th Cavalry, Punitive Expedition
By the end of the Punitive Expedition, the 10th Cavalry and three other regiments had penetrated nearly 500 miles into Mexico.
Charles Young was promoted to the rank of Lieutenant Colonel in the 10th Cavalry in July of 1916, the second-most senior position in the regiment, and the first time an African American would reach that grade as a "line officer" in the regular army.
Six months later, President Wilson, who had campaigned for reelection with the slogan, "He kept us out of war," ended the Punitive Expedition and ordered the troops to return to the United States to begin preparations for the war in Europe.
National Archives and Records Administration
Credit: Golden Gate National Recreation Area, Park Archives
The 10th Cavalry spent World War I in the United States. On 9 January 1918, the U.S. 10th Cavalry Regiment was involved in firefight with Yaqui Indians just west of Nogales, Arizona. E Troop intercepted a group of American Yaquis on their way to render aid to Yaquis of Sonora, who were in the midst of long running war with the Mexicans.[
Later that year, in August 1918, the 10th Cavalry fought a border skirmish with the 35th Infantry Regiment at the Battle of Ambos Nogales in which German military advisors fought and died along with Mexican soldiers. This was the only battle during World War I where Germans engaged in land combat against United States soldiers in North America.
The 35th Infantry Regiment was stationed at Nogales, Arizona on 27 August 1918, when at about 4:10 PM, a gun battle erupted unintentionally when a Mexican civilian attempted to pass through the border, back to Mexico, without being interrogated at the U.S. Customs house. After the initial shooting, reinforcements from both sides rushed to the border. Hostilities quickly escalated and several soldiers were killed and others wounded.
The U.S. 35th Infantry border post had about 15–18 men
and requested reinforcements from their garrison. When they arrived they requested the
Buffalo Soldiers
of the 10th Cavalry. The 10th, commanded by Frederick Herman, came to their aid from their camp outside town. After observing the situation for a few moments, Lt. Colonel Herman ordered an attack on the Mexican and German held hilltops overlooking the border town. Defensive trenches and machine gun placements had been seen being dug there in the previous weeks. Herman wanted Americans there before Mexican reinforcements got there.
Under heavy fire, the U.S. 35th Regimental infantry soldiers and dismounted 10th Cavalry troops advanced across the Mexican-American border through the buildings and streets of Nogales, Sonora and up onto the nearby hilltops. This was done while other units of the 35th Regiment held the main line near the border post. About 7:45 PM, the Mexicans waved a large white flag of surrender over their customs building. Lt. Colonel Herman observed and then ordered an immediate cease fire. Snipers on both sides continued shooting for a little while after the cease fire, but were eventually silenced upon orders from their superiors.
Buffalo Soldiers Bill Aims To Honor Nation's First Black Army
SACRAMENTO, Calif. -- In the decades after the Civil War, the nation's first black Army regiments guarded Yosemite and Sequoia national parks against poaching and timber thefts, a role that in hindsight made them some of the United States' first park rangers.
Now as the National Park Service prepares for its 100th anniversary in 2016, there is a move in Congress to formally recognize the role of these "Buffalo Soldiers," who set aside their guns to build the first trail to the top of Mt. Whitney and the first wagon road into the Giant Forest.
On Monday, the U.S. House of Representatives passed a bill by Rep. Jackie Speier, D-San Francisco, allowing the federal government to study creation of a national historic trail along the 280-mile route the soldiers traveled between The Presidio in San Francisco, where they were stationed, and the Sierra Nevada they patrolled.
"This relates to a bigger goal we have – and that is to celebrate the centennial by diversifying our national parks so that they reflect all of our cultural heritages," said Ron Sundergill, senior regional director for the National Parks Conservation Association, which has pushed for the Buffalo Soldiers to be honored.
Companion legislation is being sponsored by California's Democratic senators Dianne Feinstein and Barbara Boxer.
"Many African-Americans don't feel a cultural connection to the national parks because they don't feel a connection to the history," said Yosemite Ranger Shelton Johnson, a historian who interprets the park soldiers' lives. "It's good for the entire country to know that people of color and women made contributions to our parks."
The all African-American regiments were comprised of men from the South who faced limited economic opportunities. Native Americans named them "Buffalo Soldiers" because their curly hair resembled the tuft between the horns of a buffalo.
In times of peace, their mission was tough: to maintain order in a wild and often lawless region of California, while not arousing feelings of racial prejudice. The route they rode took them south through San Jose then over the Diablo Mountains and through the Central Valley.
Supporters hope that recognizing the soldiers leads to a broader awareness of the role African-Americans troops played in protecting resources, as well as fighting wars in Cuba and the Philippines.
"Children learn about Spanish missionaries, the 49ers, and the railroad barons, but how much do they know about the Buffalo Soldiers?" Speier said. "My hope is that their remarkable service to this country takes its rightful place alongside other great stories from the San Francisco Bay."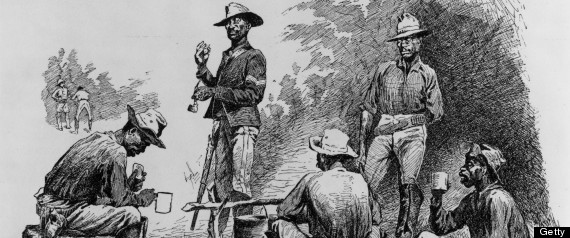 General John J. "Black Jack" Pershing, Laclede, MO
Was Guarded by Readic Comer, Warrensburg, MO
In 1896 Pershing was assigned to the frontier with the Tenth Cavalry, an all-black regiment. The Native Americans called these troops buffalo soldiers because they believed the soldiers' hair resembled that of a buffalo. At the time, blacks were segregated from whites in the military.
1902 Tenth Cavalary, Mo. State Historical Society
Pershing was then assigned to teach at West Point. Here he was given the nickname "Black Jack" because he had spent time with the Tenth Cavalry. When the Spanish-American War broke out, Pershing was selected to command the Tenth Cavalry once more and led his men in Cuba at the Battle of San Juan Hill. The bravery and courage shown by the men of the Tenth Cavalry earned them Pershing's respect and admiration. He often praised the black soldiers to others, an unusual thing to do during this time.
A memorial monument to the Buffalo Soldiers stands at Fort Leavenworth, Kansas, facing west on a bluff overlooking the Missouri River. At the statue's dedication in 1993, then Chairman of the Joint Chiefs of Staff, General Colin Powell, said, "There he is, the Buffalo Soldier on horseback, in his coat of blue, eagles on his buttons, crossed sabers on his canteen, rifle in hand, pistol on hip, brave, iron-willed, every bit the soldier that his white brother was. African Americans had answered the country's every call from its infancy, yet the fame and fortune that were their just due never came. For their blood spent, lives lost, and battles won, they received nothing. They went back to slavery, real or economic, consigned there by hate, prejudice, bigotry, and intolerance. . . I am deeply mindful of the debt I owe to those who went b
efore me…don't forget their service and sacrifice.

"
Buffalo Soldiers
Officer Charles Young
"Buffalo Soldier" is the collective nickname given to the first African-American members of the U.S. Armed Forces. The Buffalo Soldiers, originally the 9

th

10

th

, 24

th

, and 25

th

U.S. Military regiments, were common figures around the U.S./Mexico border during the turn of the century. Henry Flipper, the first African-American graduate of the U.S. Military Academy (1877), and Charles Young, an officer of the 9

th

and 10

th

Cavalries and the 25

th

Infantry, both spent time patrolling the barely tamed outpost of Fort Huachuca.
Fort Huachuca
Fort Huachuca was the onetime home of every regiment of the original Buffalo Soldiers, starting in 1892, with the arrival of companies from the 24

th

Infantry. (The 24th and 25th Infantries were consolidated from the 38

th

, 39

th

, 40

th

, and 41

st

Infantries.) The 10

th

Cavalry arrived at Fort Huachuca in December 1913 and stayed for eighteen years. The 10

th

Cavalry is thought to be the regiment which established the name "Buffalo Soldiers." History holds that the Native American tribes they fought (likely Comanche or Cheyenne) compared their fighting to that of the mighty buffalo and likened the texture of their hair to the Buffalo's mane.
The Seige of Naco, Sonora
In October, 1914, members of the 9

th

and 10

th

Cavalries entrenched themselves on the border during a battle between rebel Mexicans and Mexican federal troops in Naco, Sonora. The troops maintained order without firing for two and a half months, earning a special letter of commendation from President Wilson.
"

Buffalo Soldiers" fight the only World War I battle on American soil
The Battle of Ambos Nogales
In August of 1918, armed Mexican troops were seen in Nogales, Sonora with several men thought to be advisors to the German military (U.S. enemies during World War I). It appeared that Germans were planning an attack on Nogales using Mexican forces. On August 27, 1918, members of the 10th Cavalry and the 35th Infantry briefly exchanged sniper fire across the international border—the only World War I battle fought on American soil.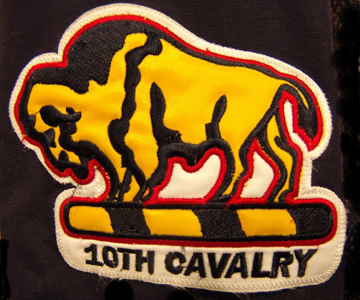 Antique 10th CAV, Troop M
10th CAV, Co. A, Guidon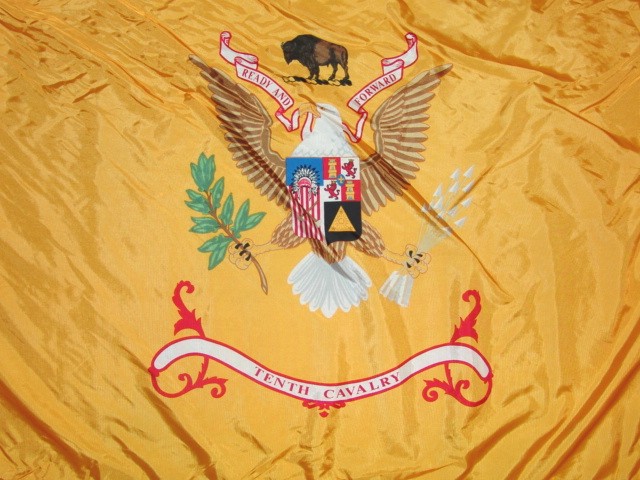 Tenth Cavalary Regimental Colors
10th Cavalry Today
Wife -
Della Comer lived in Cochise County, Arizona in 1920. She was the head of the household's wife, 27 years old, and identified as black. Della was born in Texas around 1893, and both of her parents were born in Texas as well. In 1920, Della was married to Readic Comer. She could read and write.

Name: Readic Comer
Gender: Male
Age: 21
Birth Date: 1898
Marriage Date: 14 Aug 1919
Marriage Place: Cochise County, Arizona
Spouse: Laura Harvey
Brother: Anderson Comer, 374-01-3946
Born July 4, 1895
Died November 1, 1970
Detroit, Michigan, Wayne County