History of Henry County Missouri link
Clinton Newspaper Clippings
Henry-County-Museum Facebook Page
The Henry County Courthouse in Clinton, Missouri, was designed by Curtiss and Frederick Gunn. It was completed in 1893. The tower was later removed in 1969. [The State Historical Society of Missouri, Photograph Collection (C205_1)] Curtiss, architect link
John W. Patterson, hanged July 22, 1881, Clinton, MO
Henry County. Killed James G. Clark.
The product on display is Larabee's Best, they had a plant in Clinton, Missouri.
1916 postcard Clinton, Missouri
Time Square Motel, Clinton, MO
Downtown DeSoto Plymouth Motors, Clinton, MO
Wm F. Crome & Co. Clinton, MO
Artesian Well, Clinton, MO
Established in 1887, in the era when spring water was associated with health, the Artesian Spring Well on the western edge of Clinton was a lively place. The Artesian Hotel catered to visiting spa enthusiasts. A race track was built and for several years the county fair was held here. Excursion trains, public buggies, carriages, and trolleys brought visitors to sample the curative, but malodorous, waters with their purgative effect on those who drank it. Besides the spring, which shot a fountain of water nearly 12 feet high, and lake, entertainments included a dance hall, county fairgrounds and horse racing.One and one-half miles southwest of Clinton, at the terminus of a horse-car line, are the beautiful grounds of the Artesian Park, containing a spacious lake, with hotel of three stories, basement, and attic, equipped with all modern conveniences, including dancing hall, billiard rooms and bowling alley, a pavilion, and boat and bath houses. The artesian well on the grounds discharges a palatable water, possessing known medicinal qualities, containing the chlorides of potassium, sodium, magnesium, and calcium,, the carbonates of magnesium and calcium,, sulphate of calcium, and sulhydric gas. The park is a favorite resort, and attracts visitors from considerable distances. The fountain spray subsided. Rumors circulated that a couple of local wags had dropped bowling balls into it, but more likely that the spring just lost pressure and thus its artesian effect. The original site comprised 40 acres. The bottomland area of the park became part of the Harry S. Truman Dam project. Today the site of the former artesian spring is overgrown. Elsewhere on the remaining grounds are playgrounds, tennis courts, and the Artesian Amphitheater, built in 2002 by Hilton Hotels Random Acts of Service.
Artesian Clinton, MO
Artesian Well and Hotel, Clinton MO
Artesian Park and Lake, Clinton MO
Baird College, Clinton, MO; 1885-1898; reopened in 1902 and operated for a few years as Clinton College for Young Ladies; then, as Clinton Theological Seminary from 1920-1925
West Side of Square, Clinton, MO 1914
Rentcler & Mann Grocer, Manks Studio, Hardware Store and Williams Drug
The Crest Cinema, opened in 1947, is the only surviving theatre of the original five that once lined the streets of Clinton. It has an impressive two story yellow stucco like front with a rustic wood and metal around the poster cases one ach side of the entrance. The second story has a wood shingled awning over the center windows and wood framing around the upper windows on each side. There is a thin rounded awning type marquee with no attraction panel but there is an upright sign with Crest on it. The lobby is nice an spacious and brightly lit with a good size concession area. The auditorium is nice and clean but rather plain. Seating was provided for 612 as a single screen.It was later converted into a triple-screen cinema, closing in March 2003. It has since been renovated as a live theatre.- Chuck Van Bibber
Rainbow Motel, Clinton, MO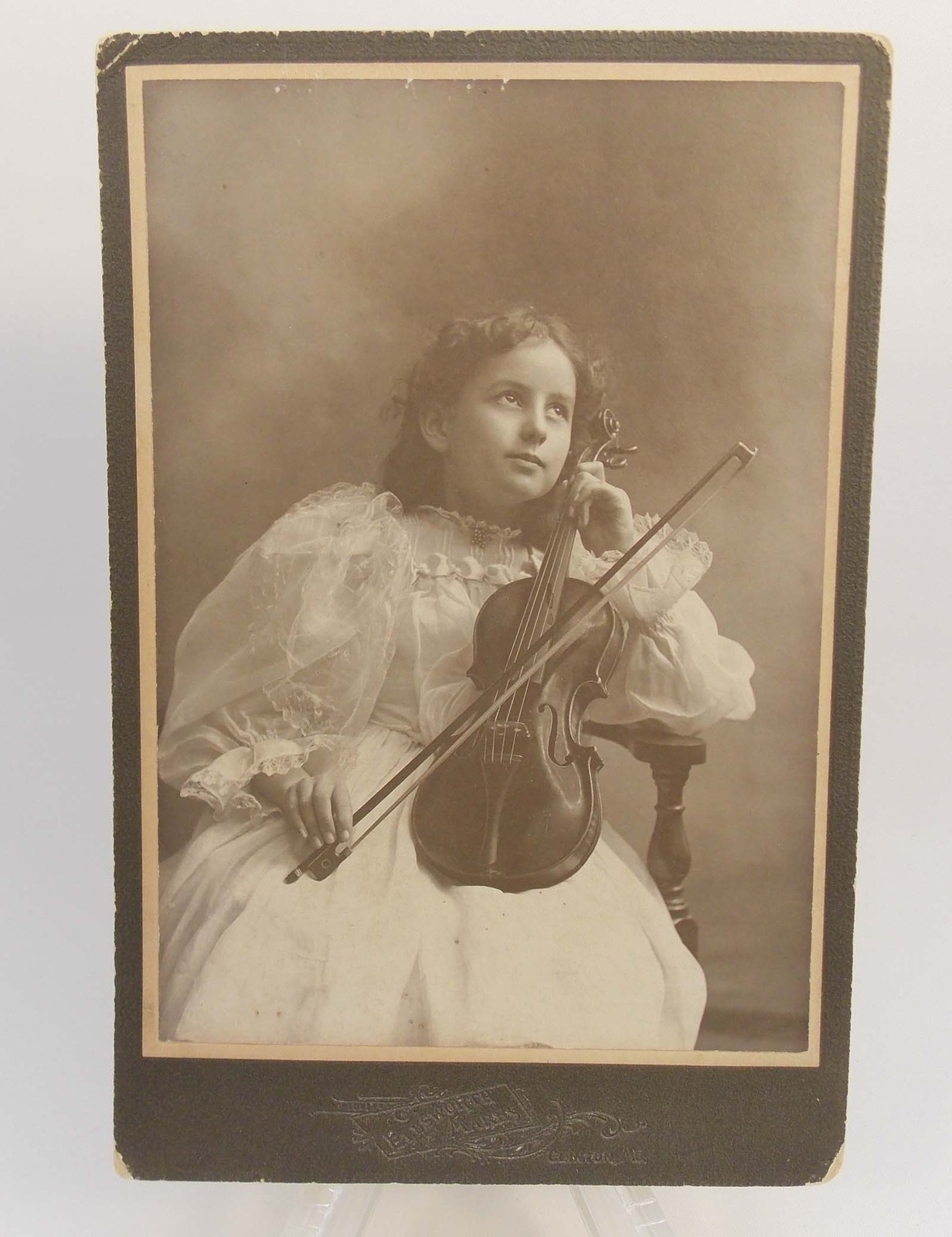 Little Girl, Clinton, MO
Missouri's first official state photographer, Gerald R. Massie, preserved the beauty and the history of the state through his photographs from 1945 to 1974. Born in Clinton, Mo., Massie's interest in photography developed early in life at age 10 when he won his first camera, a $1.98 Brownie. While attending Clinton High School, he was employed as a printer's devil at the Clinton Eye newspaper, learning Linotype operation.

Missouri's Gerald Massie
The State Photographer on the James River
By Carolyn Collings and Lynn Morrow
Gerald R. Massie (1911-1989) was Missouri's first official state photographer, holding that position from 1945 to 1974. His interest in photography developed early in life as a youth in his native Clinton, Missouri, when, at the age often, he won a July Fourth bicycle race around the courthouse and as a prize, his first camera, a $1.98 Brownie. He worked as a printer's devil on the Clinton Eye after high school eventually leaving town for work in the "big city." He carried a letter of recommendation from his former editor who wrote that he had a "good disposition that remains unruffled in times of hurry and need of speed." In 1936 he landed a night job for the Kansas City Star (Times) as a journeyman linotype operator, while doing freelance photography during the day.
Drafted in the Army in early 1942, he served during World War II with the U.S. Strategic Air Force as an aerial photographer, documenting the effects of bombing missions and taking ground news photos. In England he supervised a 22-man photo lab. During the war Massie earned a Bronze Star and five battle stars, surviving a returning bomber plan crash in England. In 1945 Massie returned to Missouri, and found a position as the state's photographer in the newly formed Resources and Development Commission, later called Commerce and Industrial Development. One of his early assignments in 1946 was the coverage of Winston Churchill's "Iron Curtain Speech" in Fulton, Mo. Massie quickly became a key figure in state government in 1946 when, for the first time in history, Missouri used state revenues to advertise the state nationally. In 1947, "The Great Pictures" contest co-sponsored by Encyclopedia Britannica and the University of Missouri School of Journalism, judged two of his photos among the nation's 100 best (professor Clifton C. Edom was secretary of that competition and exhibition and editor of the book-length publication of the exhibit).
Assigned the task of promoting Missouri, Massie sent a steady stream of photographs to the Commission, and produced sixteen recreational booklets on Missouri regions, including The White River Country of Missouri and The White River Country of Missouri Map (Some 65,000 each of these two were circulated. Local historians recognize this famous series that included Mark Twain Region, Ozark Playgrounds, DanielBoone Region, Big Springs Country, Lake of the Ozarks, and more). He photographed Missouri's natural and historic sites, parks, industry, commerce, and agriculture, specializing in many aerial photographs. To produce the Missouri regional series of booklets over a period of eight years, Massie traveled about 15,000 miles per year to take 1,500 photographs annually to arrive at some 300 quality prints. His most famous picture—"Missouri Dragon"—an aerial view from 10,400 feet of the Lake of the Ozarks, has been reproduced hundreds of times. Specialists in Missouriana will recall the caption, "Photo by Massie", seen on thousands of Missouri promotional publications.
Massie's images appeared in national magazines and newspapers, as well as Missouri state publications, on television stations, in encyclopedias and school textbooks; publishers also printed them in foreign advertisements about Missouri, included reproductions on cake box tins, china plates, silver spoons, silk scarves, glass, postcards, and puzzles. Whenever possible, Massie implemented the old newspaper maxim, "A pretty girl has never yet hurt a picture." And to add to his interesting career, in 1956 he won a Mercury Monterey Phaeton from the Ed Sullivan Show.
Massie's period of state service stretched across the governorships of Donnell, Donnelly, Smith, Dalton, Blair, Heames, and Bond. In his more than 28 years with the state, he served as acting director of his division three times, and at various times directed the Industrial, Tourism, Information and Museum sections. The recipient of many professional awards, he was appointed to the Missouri Academy of Squires in 1961 by Governor Blair for "his peerless photography of the Missouri scene over a long period of years." He valued correspondence from friends who appreciated his work, including "Fibber McGee and Molly" (Marian and Jim Jordan), Bob Cummings, Harry S Truman, and Thomas Hart Benton. Acquaintances all knew him for his white hair, a perpetual cigar, his news camera and his sales pitch that Missouri is the best state in the nation in which to spend a vacation or locate a business.
Gerald Massie Photograph
In late 1991 Gerald Massie's widow, Henrietta, donated 3,500 photographs and negatives to the Missouri State Archives where it joined the large Commerce and Industrial Development Collection, heavily influenced by Massie' s work; another much smaller Massie collection resides at the State Historical Society of Missouri, Columbia. The images in this collection represent a major effort in the preservation of Missouri's past. (Readers who wish to use the collection should consult with archivist Mark Herndon at the Missouri State Information Center, 314-751-7299.) With this brief introduction, the Quarterly presents samples of only one theme in the Massie Collection—the famous Missouri float-fishing trips down James River, hosted by industry leader Jim Owen.
Photojournalism Hall of Fame Gerald R. Massie link
Clinton, Missouri
Lindstrom Hatchery, Clinton, MO
Bush's Wonderlay Chicks, Clinton, Missouri
Mrs. Vera Courtenay Thomas, Clinton, MO
Opera Star
WEST SIDE of the Clinton, Henry County, Mo., Square about 1910.