Ever Hear of Dairi-ett?
It seems that Simmons Studio did a lot of insurance photography. Take, for example, this picture of a burned out business.
The structure was destroyed by fire after a tractor and trailer went through the door and hit a wood stove.
Has anyone ever heard of Dairiett? I couldn't find any advertising for it at the historical society. Like most pictures from the Simmons Studio collection of negatives, I think this was taken in the early 50s.
St. Clair Missouri's Dairiette!
Skip Reed's Corner


Remembered
Rapid changes are taking place south of St. Clair on Highway 30. Skip Reed's Service Station, a fixture in the community for over half a century, is gone. Over the past few months, a new structure has risen and stands gleaming in the summer sun, almost ready for opening day. For a few weeks during construction, the replacement building loomed behind Skip Reed's old service station, which has since been demolished and relegated to the dusty corners of history.
By By: Sue Cooley
Aug 20, 2002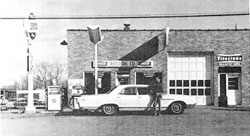 In the 1930s, when Skip Reed was yet a schoolboy, a large, dark, wooden structure stood on that corner. Known as The Oaks, it was a restaurant.Harrell Barber of St. Clair, who will soon be 91 years old, recalls dancing to jukebox music at The Oaks with his wife, Vernys (Short) Barber.William Hines owned The Oaks and a small gas station, consisting of two gas pumps, a tiny office and a grease rack that stood to the right of the restaurant. When James Raymond "Skip" Reed graduated from high school in 1939, his mother, Annie Farrow Reed, bought the little gas station to help her son get started in business, not knowing that he would spend half a century serving the public on that corner. But, like thousands of other young men in the early '40s, Reed's plans were put on hold by the outbreak of World War II. When he enlisted in the Army, he sold the building back to Hines. By then, The Oaks had been converted to living quarters and several families lived there over the years.Reed was a ground soldier, serving in the 198th Infantry Battalion, D-Battery. He was a noncommissioned officer, a sergeant, but he earned a battlefield commission. He was at Omaha Beach in Normandy and, like many others, was never able to talk about the horrors of that famous battle.After the war, Captain Reed completed 20 years of military service through the National Guard. He was company commander of the 138th Infantry Battalion, headquartered in St. Clair, along with Ben Jackson, Bob Reichard, Howard Ennis and numerous other area men.When Reed returned from the war, he again bought the station and the old restaurant building and resumed his former role.On Valentine's Day of 1947, he married Fern Lee Burnett, daughter of the Rev. Fred Burnett and his wife, Bertha. Rev. Burnett had begun his ministry at the old Indian Creek Baptist Church south of St. Clair and had pastored the Elmwood, Cave Springs and Bethel Baptist churches, spending 15 years at Bethel.After some remodeling, The Oaks served as their first home, but was demolished a few years later when the tiny service station was replaced with the building that was recently razed. He continued in the business for 40 years and eventually, on October 1, 1984, sold it to his sons, Terry and Jerald Reed. The boys operated the station for several years but both boys went to work at the Chrysler plant and sold the business to the present owners, Greg and Kailey (Hopkins) Vogt, who had purchased an adjacent service station and convenience store in 1992.When Reed first went into the business, the station sold Zephyr gasoline, but it had been a Conoco station for several years. Some of the long-term employees over the years were Dale Sullinger, Herman Patterson, Jim Brown and Bobby Banderman. Reed's daughter, Vicki Goodwin, recalled how her father anticipated giving candy to the children of his patrons.According to Harrell Barber, Skip Reed's brother, Tracy, started a propane gas business in a small frame building behind the station where Ferrellgas is now located. Tracy Reed lived in what is now the John Stolte house. Skip Reed took an active role in the St. Clair community. He served as president of the St. Clair Saddle Club for many years, but was probably best known for his support of and active role in Little League baseball, the American Legion ball teams and a men's traveling baseball league. He sponsored teams, but he also coached and umpired. His booming voice could be heard without a microphone, whether he was announcing at a horse show or calling out balls and strikes.A few of the players were Delmon "Red" Dierking, Jim Gratzer, Wayne Brown, James Fountain, Warren Reed, Kevin Williams, Bobby Dopp, Richard Bachmann, Tim Huff, Bob Osborn, Don Sterling, Ed Stroup and Homer Fisher. Red Dierking recalls, "Skip was a great guy. He was a great coach who loved baseball and I loved playing for him."Bonnie McBride recalls, "Skip was a good guy." They all went to church together at the Bethel Baptist Church and Skip was in horse shows with her brother, Stanley Manion. Helen Ely remembers working with Skip in the St. Clair Saddle Club and said, "He was a very likable person with strong leadership skills. He had great ideas and was a good president. He really knew how to keep the organization moving along."James Raymond "Skip" Reed and his wife, Fern Lee, had three children:Terry, who lives with his wife, Theresa, or "Terri," at Pacific; Gerald, who lives in the family home, and Vicky Goodwin, who lives with her husband, Richard, at Cuba. There also are four grandchildren, a stepgrandchild, two great-grandchildren and two stepgreat-grandchildren.One of the eight children of George Washington and Annie (Farrow) Reed, Skip was born September 19, 1922, and died March 3, 1996. Growing up on the present Jerry Landing place on Indian Creek, his siblings were Tracy A. Reed, who married Ruth Shadrick; Leona, who married Rube Shadrick and later, a Gibson; Carlys, who married Harold Smith; Helen, who married Briant Coibion; Dennis Reed, who lived at Augusta with his wife, Elsie; Rolla Reed, who married Jeannette Moore and lived in Creve Coeur; and Gracie Lucille Bray, who was killed in an automobile accident in 1957. Carlys Smith of St. Charles is the only surviving sibling.George Washington Reed, father of Skip Reed, was a farmer, born near St. Clair on December 18, 1887, one of the 11 children of Thomas and Ruth Ann (Harris) Reed. One sister died in infancy. The others were Sadie, Mrs. William J. Williamson, Mrs. William Bowman, Mrs. Chris. W. Jenni, Mrs. Steve Crosby, Mrs. Nat Camp, James, John and "big" Ben Reed. Ben was always referred to by locals as "big" Ben to distinguish him from "little" Ben Reed, who was the son of a different George Washington Reed, apparently unrelated, but definitely confusing! According to Reed family genealogist Mary Lou Leach, both George Washington Reeds are buried in the Anaconda Cemetery.An obituary from the Kiel Files of the Four Rivers Genealogical Association (Washington Historical Museum) reveals that Thomas Reed was born February 24, 1849, and died at his home near Reedville on March 6, 1915, and is buried at Chapel Hill. Many area residents will remember the dairiette that stood to the east of Skip Reed's station. Harrell Barber recalled that William "Bill" Hines and Eva Wilkerson, who lived in a small house east of the station, started selling ice cream, hot dogs, hamburgers and drinks. Because drive-up windows were just starting to become popular, they installed a window so they could serve food to people in their cars. According to Harrell, it was the first drive-up window in St. Clair, followed by Ford's Drive-In on the other side of town.The dairiette became a long-term fixture and was also owned by George and Ruth Ott, Irvin and Ethel Adams, Jack and Ginny Thomas (1969 to 1976) and by Bob and Gary Pelton and their wives, Sharon and Shirley. Later, the structure was torn down and the food service was moved inside K's Kwik Korner, where it continued for another year or two.Tom Manion built a garage next to the Reed station. Gas pumps were eventually added, providing competition for Skip Reed. In the early years, neighboring business owner, Charlie Smith (real estate and insurance) made the comment to Manion that the service station was encroaching onto Smith's property by a couple of feet on the northeast corner. No one bothered having the property surveyed to ascertain whether there actually was a problem, but Manion decided he would take care of the matter anyway. He had the corner of his building cut off thus settling the issue once and for all!The next owner of that station was Ed Sewald, Manion's son-in-law, followed by Irv Rasch. Jasper Ellsworth Bishop bought the station and dairiette in the 1960s. By 1967, his sons, Jasper Ellsworth Bishop, Jr., and Robert Bishop, were running the business, which was, at that time, a Phillips 66 station. Robert drowned at Rieker Ford and, at some point after his death, the station was leased to John Dingledine. The structure was destroyed by fire after a tractor and trailer went through the door and hit a wood stove.According to his son, Jasper Ellsworth Bishop had suffered a spinal injury in a timber accident and had no control over his ankles. He had to use crutches, but that didn't stop him. He pumped a lot of gas on those crutches. Harrell Barber recalled that Bishop's father, Ed Bishop, an amputee, had owned and somehow managed to operate a service station several blocks to the west for a number of years.The present building, known as K's Kwik Korner, soon to be razed, was built by Donnie VanNess, who operated it as a Texaco station. Greg and Kailey Vogt purchased the business in 1992 and have operated it as a convenience store and Sinclair station for several years.Skip Reed's corner has a bright, clean, new appearance. The large new convenience store will be a combination quick shop, BP Amoco service station and dairiette.Buildings may come and buildings may go, but to many area residents, this little chunk of real estate will always be known as Skip Reed's corner.