Horton Smith (May 22, 1908 – October 15, 1963) was an American professional golfer, best known as the winner of the first and third Masters Tournaments.

June 14, 1927 The Sedalia Democrat
OAKMONT, Pa., June 14.—Finding varieties of trouble after a flashy get away, Bobby Jones, the defending title holder wound up with a 76, four over par, for the first 18 holes of the 72 hole American open golf championship hunt today. National open golf championship scores for 18 holes. Include. Tom Stevens, Culver City, Calif. 84. Horton Smith, Sedalia, Mo. 83.
June 21, 1929
The Sedalia Democrat
First winner never lost lead
The photo above shows Horton Smith, Byron Nelson, Gene Sarazen, Henry Picard, and Ralph Guldahl, all wearing their green jackets in 1939. Below, you'll see a photo of Bobby Jones putting on the 8th green while Horton Smith watches in front of a gallery of patrons during the 1934 Tournament.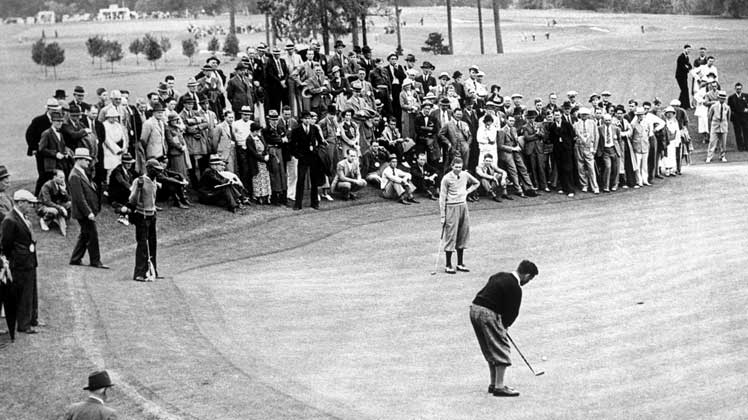 Smith married Barbara Bourne, the daughter of Augusta National charter member Alfred Bourne, in 1938. Marrying Barbara changed Smith's life since the Bournes inherited significant wealth from her grandfather's position as head of the Singer Sewing Machine Company, although their marriage appears to have been an unhappy one. Smith enlisted in the Army in 1942 and served as a Lieutenant until 1945, in primarily administrative positions, and as a golf companion for generals. Horton and Barbara had one child, Alfred, born in 1943, although they separated two years later
Gene Sarazen, Babe Zaharias, Horton Smith all carrying golf clubs.
June 1937: From left to right, Densmore Shute, Byron Nelson, Horton Smith and Edward Dudley, members of the American golf team at the 1937 Ryder Cup
Bobby Jones and Horton Smith
Walter Hagen and Horton Smith
Horton Smith, 1934 & 1936 winner; Byron Nelson, 1937 & 19
42; Henry Picard,
1938; Jimmy Demaret, 1940; Craig Wood, 1941; Gene Sarazen, 1935 and
Herman Keiser
In 1907, sixty acres were purchased and a nine hole golf course was laid out.
While the Club upheld its high standards as a golf club, it was the scene for many social functions, outstanding parties for the members and entertaining honored guests, such as the formal reception and dinner given in honor of President Taft in 1911.
Since 1909, the old club was remodeled and redecorated several times, adding locker and shower rooms, golf shop, and the building of a swimming pool.
Horton Smith, Capt. US Army Air Corps.
Death
Smith died in 1963 at age 55 of Hodgkin's disease in Detroit. He had lost a lung to cancer six years earlier, and is buried in his hometown of Springfield, Missouri. He was the first of the former Masters champions to pass away, followed by Craig Wood in 1968 and Jimmy Demaret in 1983.
Awards and honors
Smith was inducted into the Michigan Golf Hall of Fame in 1984.
Smith was inducted into the World Golf Hall of Fame in 1990.
In 1960, awarded the Ben Hogan Award by the golf writers for overcoming a physical handicap and continued active participation in golf.
In 1962, he was voted the Bob Jones Award, the highest honor given by the United States Golf Association in recognition of distinguished sportsmanship in golf.
The PGA of America annually grants the Horton Smith Award to a PGA professional who has made "outstanding and continuing contributions to PGA education."
A municipal golf course in his hometown of Springfield, Missouri, is named for him.
A golf tournament at the Detroit Golf Club is named for him.
He is attributed with being the first professional golfer to study putting as a means to beat his opponents.
In September 2013, Horton's green jacket, awarded in 1949 for his Masters wins in 1934 and 1936, sold at auction for over $682,000; the highest price ever paid for a piece of golf memorabilia. It had been in the possession of his brother Ren's stepsons for decades.