1922
Officers at Warrensburg Raided Hooch Factory Thirteen Miles North Found 13 Barrels of Mash and Improvised Still at, the Roy Murphy Home.
About 8:30 o'clock Saturday evening the phone rang at the county jail, says the Warrensburg Star-Journal. Os Willard, deputy sheriff, answered. A woman's voice at the other end of the line informed the officer that a suspicious car had just pulled up in the Shaw yard, just outside the city limits on South Maguire, and the occupants of the car had left hurriedly. Officer Willard, accompanied by Traffic Officer Cross, on the latter's motorcycle, made a run to the place and found the automobile. Inside the car was an egg case filled with a bottle of corn whisky. On the side of the box was the name, Roy Murphy. The officers drove the car to the Auto Shop, and after taking the whisky to the county jail, secured a search warrant. Headed by Sheriff Duncan, who had been working on the case for some time, Willard, Cross, Frank Priest and Caldwell Drummond, all went to the Roy Murphy home, 13 miles north of Warrensburg. There they found an unusual sight. In the cellar of the home was thirteen thirteen barrels of mash, about 600 gallons, gallons, and an improvised still.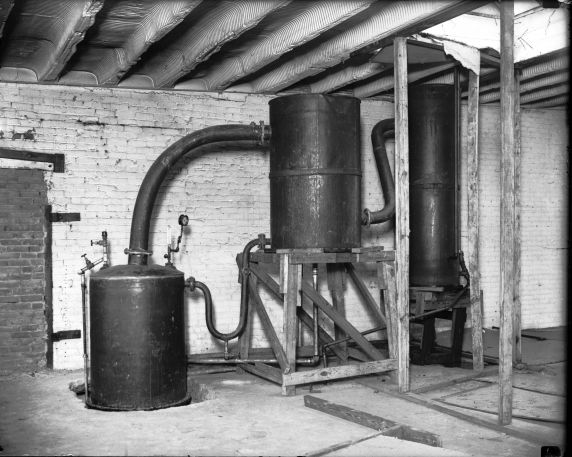 Typical 1920s Still
Mrs. Murphy and others were there, but Mrs. Murphy declared her husband had gone to town. The officers began the long and tedious job of pouring out the mash. After working about one hour, pouring the mash out in the back yard, the officers decided this was too big a job so poured the remainder out on the cellar floor.
The still was brought to this city; and taken to the county jail where it is held as evidence. No arrests have been made, in fact no warrants have been issued. Prosecuting Attorney Chaney Monday morning declared he would investigate the case further before issuing any warrants. About 200 pounds of sugar found at the house was also brought to the jail and will be held by the officers. The car which is being held at the Auto Shop, by the officers, bears a license license tag numbered 246-982.
1920 Ford Turtledeck Roadster
Records held by the officers show this license tag was issued to Earl Murphy, for a Ford roadster. The car taken by the officers is a Ford touring. Officers declare the still and the amount of mash located, is by far the largest uncovered in this section of the state.